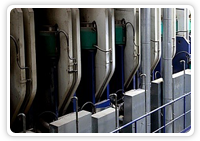 EPC stands for Engineering, Procurement and Construction.
Atlas Consultant has a very strong base of data base to help clients offering Manpower for EPC( Engineering, Procurement and Construction) and as such we have niche clients with us for our effective services.
It is a common form of contracting arrangement within the construction industry. Under an EPC contract, the contractor will design the installation, procure the necessary materials and construct it, either through own labour or by subcontracting part of the work. In some cases, the contractor will carry the project risk for schedule as well as budget in return for a fixed price, called lump sum or LSTK depending on the agreed scope of work.
When scope is restricted to engineering and procurement only, this is referred to as an EP or E and P (E+P) contract. This is often done in situations where the construction risk is too great for the contractor or when the Owner has a preference for doing the construction himself.
In an EPC contract, the EPC contractor (EPCC) agrees to deliver the keys of a commissioned plant to the owner for an agreed amount, just as a builder hands over the keys of a flat to the purchaser. The EPC way of executing a project is gaining importance worldwide. But it is also a way that needs good understanding, by the EPCC, for a profitable contract execution. An owner decides for an EPC contract for several vital reasons.