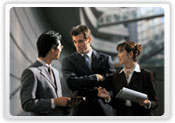 Atlas Consultant Pvt. Ltd was formed in the year 1983 with a Pan India presence..
ACPL in association with the Group offers a complete array of services to its clients. The wide coverage of fields of interests itself a very unique feature that offers unparalleled services through well strategically located branches. Just to mention, we cover services such as

*Education Institution www.edckolkata.com
*Training www.ecoyestech.com
*Corporate Social Responsibility( CSR) www.spkk.org

We are Corporate citizen and have Social Responsibility too , and thus, we have been committed for rendering services for betterment of the underpriviliged and economically weaker section people since 1986. We have made research work and implementing such innovative projects for " Inclusive Socio Economic Growth" for our area and the world at large. Please read more .......
Our services are offered by a group of professionals who are well experienced and acquainted with sector related fields ranging from OIL, Gas, Petrochemicals, Engineering, Construction, Health care, EPC Sector, IT, FMCG, Retail, Hospitality,Maintenance and Marketing Administration amongst many.

We offer our services with a clear view on the availability, cost and time factor are relevant to us as much as they are to you and reliability factor is guaranteed when you look at the very close energy between our business associates and vast networks supporting our activities spread all over the region. As needed in any professional firm, our offices set up avails of the best infrastructure together with the latest telecommunication & computing system. Custom made software and support of a highly qualified workforce ensures at all time efficient, reliable and hassle free services. Through our proven track record and dedication to excellence, after proper assessment we can support every job undertaken with outstanding leadership and commitment.
Our Mission
To be the Leading provider of services and facilities to our valued customers.
To be driven by our commitment to fulfill the needs of our clients and to constantly improve our services for their benefit, and those of our stakeholders and our team members.
From yesterday for today and beyond tomorrow we believe in continued growth, and we endeavor to succeed to the absolute height of perfection.